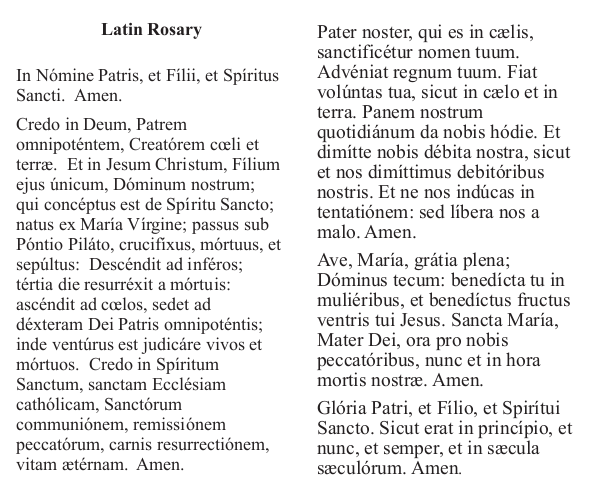 This is a prayer card I designed back when I was teaching a Latin class, so I could give one to each student. I ran across the files recently and thought I might as well put them online where someone else might get some use from them. They have all the standard Rosary prayers in Latin: the Sign of the Cross, Apostles Creed, Our Father, Hail Mary, and Gloria.
If you download the two PDF files and print them on opposite sides of an 8.5x11 piece of paper or card stock, then cut on the cut lines, you'll get three prayer cards a bit under 3x5 inches, a bit bigger than a standard holy card, but a good size to fit in a pocket. I had a printer do it and then laminate each card, which I think ended up costing about 70 cents per card. Pretty good deal.
I'm also putting up the original files I designed, in case someone wants to make changes before printing them. I created them in the open source desktop publishing program Scribus, so you'll need that or something that knows that format.